Welcome to Willow Class - Year 1/2
Willow class is made up of 30 Year 1 and Year 2 children. Mrs. Benson is our teacher and we are supported by Mrs. Trapps and Miss. Ivory.
In Willow Class we are very busy having lots of fun with our learning. The children have been amazing and we are very pleased with how quickly the children have begun to settle. The children are adapting well to the new routines and we have been very impressed with the children's attitude to learning already. The adults are looking forward to supporting the children to grow as learners who are willing to have and go and learn from mistakes.
Please keep checking our class page to see all the wonderful things that we are doing.
Willow Class Timetable
Autumn 1 - Explorers
This half term our topic is Explorers. We will be diving into the past in History and will be learning about famous explorers such as Christopher Columbus, Neil Armstrong and Amelia Earhart. Ask your child which explorers we are focussing on? Can they tell you any facts about the explorers? As well as finding out about explorers from history, the children will be intrepid explorers within the school grounds. They will use map reading skills to identify the human and physical features of the school playgroud as well as to find their way from one point to another. Can the children give you instructions to get home from school?
Learning
Reading
All children have been allocated a reading book, which they should be able to read without adult support. These books are to support the children to develop and maintain a love of reading and to enable them to become fluent readers. It would be fantastic if children can read the books they are allocated at least three times a week so that they practise recognising words automatically, grouping words to help them gain meaning and reading aloud with expression.
Fluent readers do not have to concentrate on decoding the words so they can focus their attention on what the text means. They can make connections among the ideas in the text and their background knowledge. In other words, fluent readers recognise words and comprehend at the same time.
Class Book: We are currently reading The Enchanted Wood - Enid Blyton
Maths - White Rose Maths Videos continue to be made available on their Home Leaning page. The children can use the videos to reinfoce the learning they are doing in class.
https://whiterosemaths.com/homelearning
Last week the children were learning: Next week the children will be learning:
Year 1 Year 1
Ordering objects Number lines
Ordering numbers Parts and wholes
Ordinal numbers Part-whole models
Number lines
Year 2
Count in 2s Number lines
Count in 5s Count in 3s
Count in 10s Addition and subtraction bonds to 20
Count in 3s Fact Families
Spelling
Willow class will focus on the year 1 and 2 common exception words and children will be encouraged to learn these in school and use them in their written work. Practising these at home will help the children to memorise them. Here are a few ideas to help the children to learn the spellings of these words.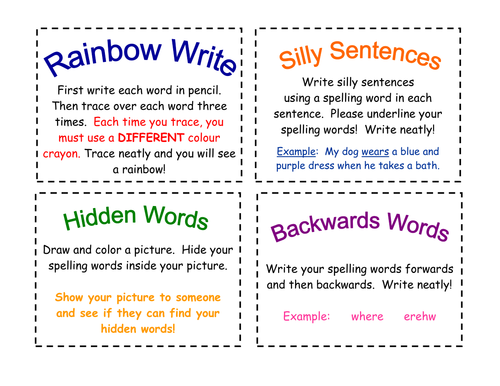 Home Learning - for children isolating in Willow Class
These documents are on the "St Mary's Home Learning Offers" Page for children who are self isolating in Willow Class.